05/05/2021
A Simple Guide to Microplastics in Fashion: What test methods exist to measure microfibre release in textiles?
Microplastics in Fashion – Contents for quick access:
What are microplastics and why should we be concerned?
Worldwide plastic pollution continues to be under global media scrutiny, and quite rightly so, given the devastating impact plastic is having to ecosystems and wildlife.
One of the most significant areas of concern is with microfibres/microplastics.
These tiny, often microscopic plastic pollutants, are defined as being between 100µm and 5mm in length; but the smallest recorded microplastics are 15µm. With their small size, microplastics are highly effective at disseminating and migrating into the environment, particularly marine ecosystems.
Here are some of the key facts about microplastics:
Up to 14 million tonnes of plastic flows into our oceans each year from coastal areas; but more alarmingly, 5.25 trillion pieces of plastic waste is estimated to be in our oceans. This then breaks down into smaller segments, and is ingested by marine life and organisms, and makes its way back into the human food chain.
Plastics could outnumber fish by as soon as 2050.
Plastics take 500-1000 years to degrade; currently 79% is sent to landfills or the ocean.
China, the world's largest producer of textiles, is ranked #1 for mismanaged waste and plastics.
50% of plastic is single use – not recyclable.
Up to 500,000 tonnes per year of microplastics from textile sources are released into the environment.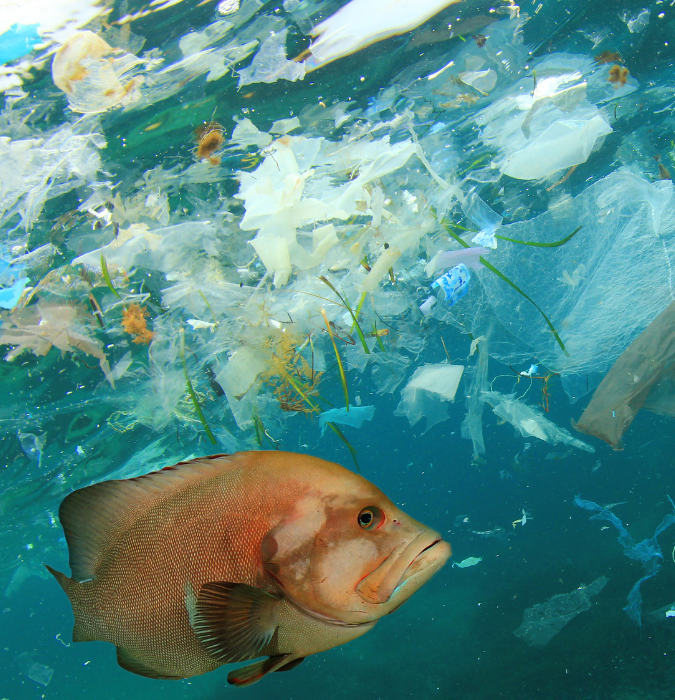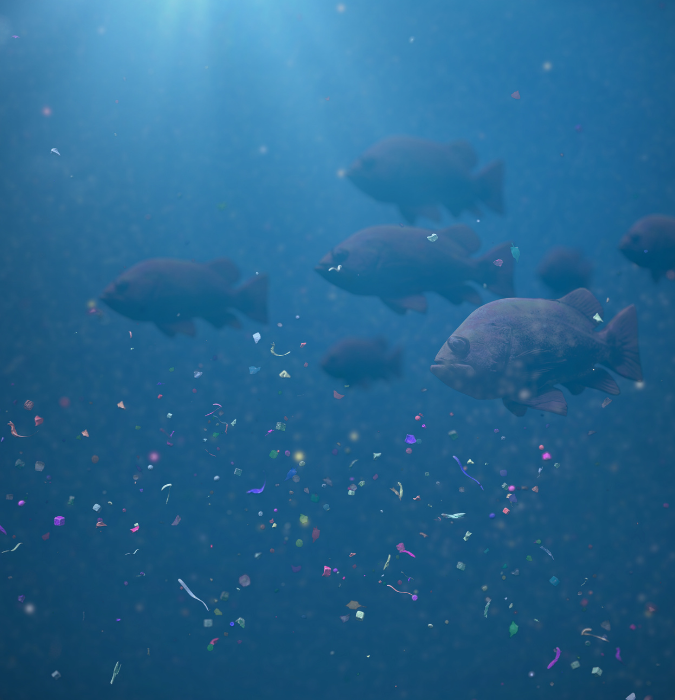 What causes microplastics to produce? Where do they come from?
"Textile laundering is a significant contributor to microplastic pollution in the environment"
Textiles, particularly the domestic laundering of clothing, have been identified as producing microplastics; which consist of materials found in clothing such as polyester, acrylic and polyamides. It is through laundering that tiny fibres break away from the garment, pass through wastewater treatment plants, into rivers and subsequently terrestrial and oceanic environments. Once there, they are ingested by terrestrial and marine life which then makes its way back into humans.
The fish and shellfish we consume often contain microplastics. For an idea of how tiny plastic particles can be, National Geographic shared an image of a 3mm-long water flea, which had ingested tiny microplastics, which eventually clump and get stuck in the gut.

Microplastics and Fashion: what steps are brands taking to reduce and combat this issue?
Sadly, not enough is being done. The fashion industry has long been accused of being slow to act on ocean plastic pollution from microfibres. The annual Fashion Transparency Index, published by the community interest group 'Fashion Revolution', surveyed over 250 leading fashion brands and discovered that only 20% of these brands actually have a sustainability strategy in place to tackle microfibre shedding in their clothing, 80% don't have anything.
H&M is one fashion brand that has made steps towards addressing the risk posed by microfibers in their garments. Part of the MinShed project and industry body Fashion Pact, H&M's focus has been primarily at the design stage of their products – where their yarns and fabrics are being designed to minimise microfibre shedding, as well as investigating alternative bio-materials to replace synthetic materials. H&M believes that brands like theirs can address microfibre pollution 'holistically' – from design through to production, and by better educating consumers on washing and product care.

University of Leeds research: an improved test method for the measurement of microfibre release
Researchers at the University of Leeds have produced a study to understand ways to minimise the release of microplastics into the environment, which outlines what test methods have already been trialled to quantify microplastic release during domestic wash laundering.
"Being able to reliably measure the number of microplastics being released during domestic laundry is a vital step in understanding the scale of the problem, and therefore what action is needed to address it. We can't assess and compare microfibre release across the industry without a reliable test."
Dr Mark Sumner - School of Design, University of Leeds
"Numerous studies have developed different methodologies to quantify microplastic pollution from domestic laundry," says Sara Williams, Technical Specialist at James Heal. "The Leeds University study analysed these and built on them to create their method. Whilst the study doesn't present a complete test method, it does present a methodology of how the researchers established a test procedure."
The study presents a robust and improved test method for the measurement of microfibre release, which is reliable and quantifiable, and has been validated to demonstrate this via correlation testing with 10 independent global laboratories. "Leeds University states that it now provides an opportunity for the creation of a standard for the quantification of microplastics release from the laundering of textile fabrics," notes Sara. "With the good news being that it is being considered as the basis for such a standard by several European and international standard bodies."
What Testing instruments can be used?
An 8 vessel James Heal GyroWash was used to produce the new 'Microfibre release during washing – quantification test method' in the Leeds University study.
The GyroWash has an established history as a reliable device to replicate domestic laundry conditions and is an established piece of colour fastness equipment used in textile laboratories worldwide.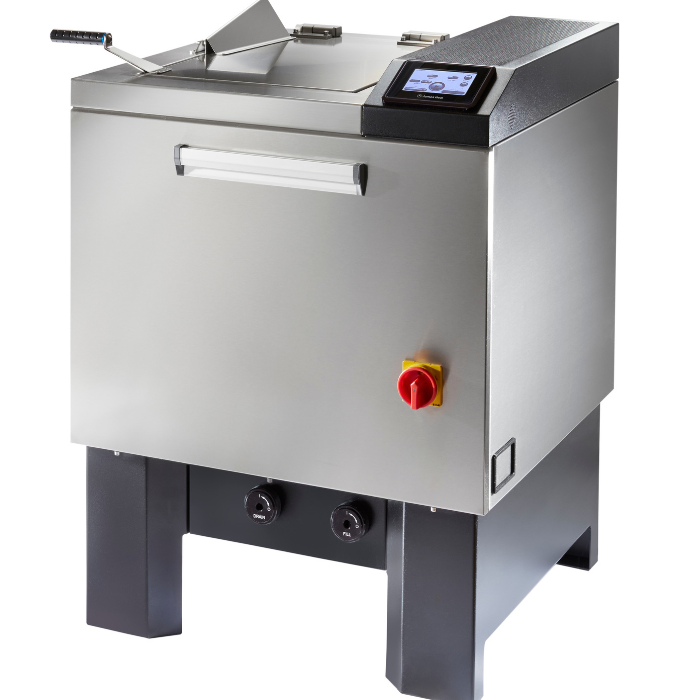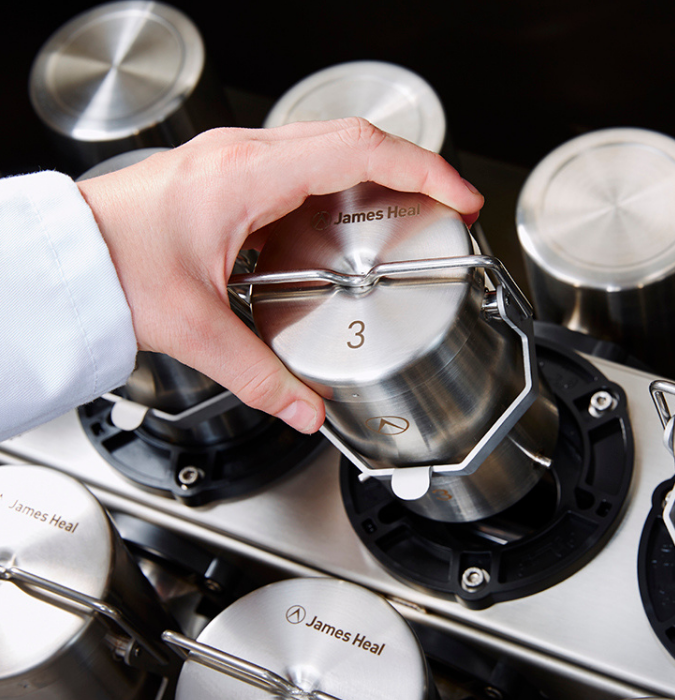 For this test method, GyroWash provides accurate quantification of microplastic release. "The Leeds University study demonstrated that the efficacy of filtration was in excess of 99%, and the influence of edge shedding was minimised through the use of effective edge sealing by seaming", says Sara.
GyroWash consists of a heated bath containing a horizontal rotating shaft that supports, radially, a number of stainless-steel vessels. The vessels contain the test sample in a liquor with a prescribed number of stainless-steel bearings that replicate in-wash agitation and abrasion.
Download the Gyrowash product brochure today to learn more
Advantages of using the GyroWash method
Greater control and repeatability of test conditions.
Parameters such as water volume and temperature, rotation speed, and duration can be set far more accurately than for domestic washing machines.
The entirety of the test liquor can be filtered and analysed, reducing potential errors or uncertainty in results
Small specimen size – fabric swatches are tested not full garments to assess material losses.
Reduced sample costs
Less wash liquor used to test the specimens – the test itself is environmentally friendly by producing less test effluent
Final Thoughts
Considering the seriousness of microplastics pollution from textiles, there is a strong need for a formal and unified test method. The University of Leeds study is a positive step in the right direction – but there is still much to be done. We look forward to seeing a standard test method being drafted, published and accepted by the European and International bodies, to tackle the issue of microfibre release – reliably, and sustainably.
Useful Links
Read more about GyroWash
Explore the rest of our laundering range: DynaWash  |  Wascator  |  AccuDry